Google is the 2000 lb. Gorilla of digital marketing. Getting Google to "do what you want" is the sine qua non (Google it!) of marketing, advertising, and PR.
This is because everyone uses Google for everything from finding pizza, and mold remediation, to arcane outdated video equipment, and frankly, whatever floats your "used pontoon under 10k".
My career over the last 15 years has been largely about getting Google (and Facebook/Instagram) to "do what we want" for our clients.
Soooo….. I am proud (in an inexplicable way) that I made Google Maps put a "Street View line" on Google Maps that shows our local walking path in glorious 360 degree photos. (That I shot!)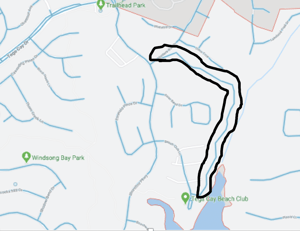 Sure… we buy hundreds of thousands of dollars of Google PPC Ads…
Search Network, Display Network,
Video You Tube and pre-roll, mid-roll, bumpers,
Google My Business Local Search Pack,
not to mention Dynamic Ads and Retargeting and Geo Targeting,
and EIEIO Targeting. (The latter are excellent if you "had a farm".)
But Non! Nej! Nein!
Today I'm bragging about getting my walking path on Google Street view. And by extension, how I have learned to do virtual tours and 360 Degree photos and videos.
It starts with SEO, and our desire to have our clients "rank higher". That means mastering Google. At its most basic, SEO for a small business starts with a Google My Business listing.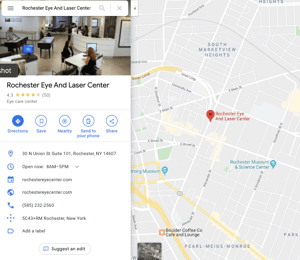 A "Google My Business" page is the most direct signal you can send to Google about your business. It's insufficient… but absolutely necessary.
It typically links to your website and gives Google search...AND GOOGLE SEARCHERS lots of info about your business. To "rank", you must cover all the bases and Google My Business is first base in Google.
Long story short, like your website, it's generally good to flesh out your GMB listing with accurate, illustrative info, pictures and videos.
A "GMB" listing always includes Google Maps. And Google Maps has a native integration for 360 degree photos.
That's what the Google Maps "Street View" function is: 360 degree photos taken by "the Google Car" driving on your street or road.
AND… Google lets us regular folks, upload pictures that they will display on the map.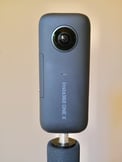 So… I bought a 360 degree camera. It's an Insta 360 One X...
and 360 degree editing software: Pano 2 VR
My first project was a 360 degree "tour" of our client's office. This "virtual tour" is very different and more sophisticated than the functionality available from Google Maps. You can see it by clicking here to our client's home page.
Then, to play and learn, I took the 360 degree camera on our beach vacation in Negril, Jamaica in February. I uploaded several of my 360 degree photos to Google Maps. Here's one from the Rock House Restaurant (Recommended!) In this one, if you look close, you can see Mary, and our friends, David and Nancy King, getting our first round of cocktails. (Pro tip: Shoot photos before vacation drinking.)
The next morning I took a walk up the beach and snapped a 360 degree photo every 10 steps for a mile or so.
I uploaded basically all 80 of those shots (with GPS tags) to Google Maps. The great Google algorithm in the sky recognized that together, these 360 degree photos were basically a walk down the beach.
So it treated the photos like Google Street View. What's that mean?
It means you can take my 7:00 am walk down the beach, from 360 photo to 360 photo, simply by clicking from picture to picture, going down the beach.
Start here. Just make sure you get the sand off your feet before you re-enter the blog post. Also, these photos are best viewed slightly hung over.
Back at home from the beach, I started reading up on what was possible to do with Google Maps and Street View.
Mary and I take a longish walk every day. One part of our walk is a paved walking trail, through the woods, that has not been "mapped" by "Google Street View".
So I did a 360 degree photo walk up the paved, but wooded path, made sure all my GPS settings were correct, and uploaded the pictures to Google Street View.
I did everything I could to get Google to "map" the path with my 360 pictures. I wanted that Street View "blue line".
Google's response was basically the automated version of "Got the pictures, we're all working on COVID stuff so don't expect much right now".
Several months later, after I had mostly forgotten my effort, I checked in on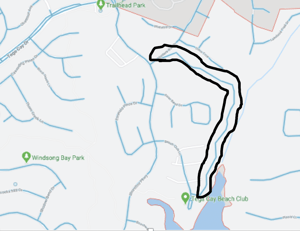 the map and VOILA… there was the Google Maps Street View "blue line" right up our walking path!
And yes, the pictures are all mine. You can walk the path in 360 degree. You can tilt way down and see my thinning scalp and thickening waist.
So I did it!
This and $5.95 will get you an Oat Milk Honey Latte with Starbucks® Blonde Espresso.
The next task is to be able to "walk" directly from Google Maps Street view, right into our clients office.
This is how I bent Google to my will.