Video is very persuasive and sticky. It sells.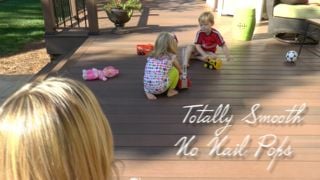 Web viewers will watch a 3 minute video before spending 1 minute reading the same information. By some accounts YouTube is the 2nd largest search engine. YouTube and other video services likeVimeo and our new favorite, Wistia, make using video on your site very easy.

AND, there are some very sophisticated and interactive ways to make video part of your inbound marketing, selling or training process too. It's all available. And nothing beats video because...
Video persuades with sight, sound, motion and emotion.
Shameless Plug # 1:
Versatile video producers can create cost effectively.
Here's a video we just finished that "lives" with several product information pages on homedepot.com and verandadeck.com. Stay tuned afterwards for the case study.
Situation:
Our friends at Fiberon Decking produce several world class products. One is Veranda ArmorGuard Composite Decking available exclusively at The Home Depot. The Home Depot wants to sell online with video. Homedepot.com (an amazing world class ecommerce site by itself!) sells online and functions essentially as a store catalog. And they want video for every product in the catalog because it's effective. Currently we are collaborating with the Fiberon team to produce 2 testimonial/product videos and the video shown here. It's a bit different because it's about a component of composite decking-Hidden Fasteners.
Problem:
Home Depot asked Fiberon to make a video for "selling" hidden fasteners. Nobody buys hidden fasteners without buying decking. The fasteners are a component of the product. How can video creation be cost effective?
Solution:
A value proposition of Veranda ArmorGuard Composite Decking is that the surface is free of nail or screw holes. It's totally smooth to the eye and feet! Hidden Fasteners make this possible. What we decided to "sell" in this video is ease of installation and the beauty of Veranda ArmorGuard Composite Decking. So I wrote to those value props.
Cost Solution:
I wrote shot, directed, edited… and yes…that's my voice too. And I used stock music and sound effects. And we "cast" the wife and children of a Fiberon employee. I'm happy to make cost effective videos this way. When I "one man band" I can tell good marketing stories very cost effectively.
I am of course, equally happy to "create and produce" higher level production value videos with world class freelance shooters, designers, and voice talent. I count lots of very high end video production professionals as good friends.
Takeaways:
Here's what's tough about video for marketing.
1st... clear storytelling matters above all. It's NOT about the video production. It's about the message and emotion. So first, hire a producer who has a track record of storytelling with video. Look for very clear and/or creative communication that use emotion effectively.
2nd...you can always spend more. And conversely, you can always get it cheaper. Make sure you are having the budget conversation with folks who know the score. Video can cost $x... or $10x... or $100x or $1000x legitimately. (Please send me $1000x! ;-)
So hire storytellers who are versatile and can work with your budget. Or who will know and tell you that a particular technique is impossible with a limited budget. (And then give you a viable storytelling alternative!)
The right team, talent, and technique matters.
How much design, polish and video production "value" is... well... truly valuable to the brand message? That's the key question and getting to that answer is crucial.
Then, you can buy that.
Shameless Plug # 2: I can produce in a high end format with location, travel, crews, talent, wardrobe, multi-cameras, graphics, special effects, post-score... gorgeous high end award winning video for web, sales, events, broadcast... been there, done that, won awards for it.
But effective story telling and clear communication is most important. We CAN tell selling stories effectively in video at a very reasonable price.
You can see just a little bit of our experience here on YouTube
And check out my blog post about simple but powerful CEO videos: How to put the boss on video-Great brand marketing.