We just returned from a week in Rochester and the weather was above normal with NO SNOW! That's a plus in January.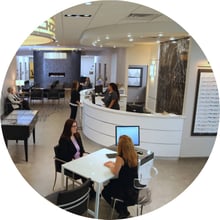 We spent the week preparing for an Open House for the newly renovated eye center, that kicked off the year-long campaign, The NEW Rochester Eye & Laser Center.
We decided some traditional "PR" would be beneficial for our client, so we combined the cient investment in the newly renovated Rochester Eye & Laser Center with the transformation of Rochester's Inner Loop, Mayor Warren's initiative. We completed a press release and video news release that was sent to the Rochester press and Mayor Warren's office a month ago. The Rochester Business Journal and several local suburban papers picked up the story. We designed and mailed an invitation to the local area businesses on Park Avenue, Main Street and East Avenue, and a social media campaign to all businesses around the Rochester Eye & Laser Center on 30 North Union Street.
The city sent the Department of Neighborhood & Business Development, Commissioner Baye M. Muhammad to speak to our approximately 40 guests. Channel 8 News and Time Warner News also attended the event and featured a story on their broadcasts and websites.
We have just completed another video of remarks at the Open House to follow up with the city and the press. There will be blogs, videos, radio ads, social media and more events coming up throughout the year in support of the campaign.
If you live in Rochester, I recommend stopping by the NEW Rochester Eye & Laser Center and see the beautiful renovations (it's even got a fireplace and some incredible photos of Rochester in the late 1800s,) introduce yourself to Dr. Kenneth Lindahl, and take a look at the new Optical Shop with over 1000 pairs of glasses in stock. It's a really beautiful space and an excellent practice.