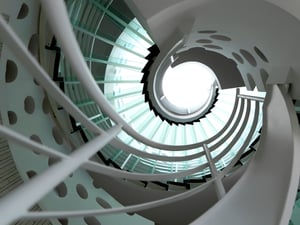 Google uses machine learning technology to try and give searchers the best results to their queries. It's designed to better understand the searcher's intent instead of the exact phrasing they entered in their query.
So, what can marketers do differently to make sure they are served as the answer to the query?
Move away from only optimizing around exact match keywords
Produce comprehensive & semantic-rich content around specific topics
Emphasize SEO-friendly site architecture and consistent internal linking
Aggressively promote content through relevant link building, repurposing, paid channels, etc.
Think of your content like a series of pillars, a stabilizing foundation for your marketing strategy.
Pillar Pages -Top Cluster Methodology
A pillar page is a website page that covers a topic in-depth and is linked to a cluster of related content (i.e. other pages, or blogs that go deep on a topic.) The core topic should be a broad term, between 2-4 words in length, and industry specific. It should support your product or service. The length of these individual content pieces can vary depending on the specific topic, but generally should be at least 600 words.
Clustering is an effective SEO strategy because it provides a structure that Google bots can easily understand. Because of how pages are connected to each other, bots can scan the pages more quickly than with a traditional keyword strategy. Importantly, the structure also alerts the search engine that there is a relationship between the content pages. Therefore, it tells Google that the pages provide distinct, relevant information on a particular topic that is easy for users to navigate.
Content clustering requires a different approach than any other SEO strategy. It's essential to plan out an entire cluster in advance. That means choosing appropriate pillar topics and many subtopics with relevant content.
Relevant Topics
Start by identifying relevant topics. These could be your services or industry relevant subjects. Link those topics with keywords that have a quality search volume. Create pillar pages for those central topics. You can use your existing content to do this. In some cases, you may just have to rearrange your page structure. In other cases, you'll have to refresh or combine content in order to create some lengthy, substantive overview pages that make effective pillars.
Subtopic Pages
Then, create subtopic pages. Develop the finer points addressed in your pillar pages in a more in-depth manner. You may want to create new content for the subtopic pages or repurpose existing content. Use the subtopic pages to focus on what your business does better than any of your competitors.
Once you've got your content and know the structure, don't forget the internal links! Those connections between subtopic pages and back to the pillar page are what makes the clustering SEO strategy particularly effective.
Navigation
Topic cluster structure and linking doesn't need to be done through the main navigation menu of your website. You can certainly build your main website navigation menu around topic clusters, but you can also build out these internal linking structures through on-page links elsewhere on your site pages as well, such as inline text links, topic/category tags, call-to-action buttons, and other types of on-page navigation as well.
Game Changing SEO -Top Cluster Methodology
Seem a bit daunting? Designing and implementing a strategy for topic clusters and pillar content can be a lot of work. Investing so much time and resources into crafting and implementing this strategy by yourself, only to risk coming up short and not get the desired result, can be defeating. That's why we recommend partnering with an inbound marketing agency (like us!) to work with you on implementing this. Implementing topic clusters and pillar content strategy, can give you incredible, game changing results.
Want to learn more?