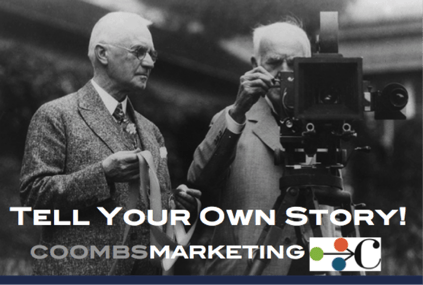 Both Thomas Edison and George Eastman (shown here) started as scientists with inventions to sell. And they both soon realized that, in order to grow and finance their continued science and company growth, they had to "show up" and become public figure business salesmen.
Small and medium size business CEO's and sales folks must do that too. They must go to bat personally for their companies everyday. And usually, they are good at it.
So do it. On video. 24/7. On your website. So more people "see" you.
OK, your company is "today" and not Kodak or General Electric.
But human nature has not changed.
Nothing is more convincing than a credible, authentic, enthusiastic person telling and selling their ideas, services, or products.
That's you. Or someone in your company. So get on video ONLINE!
As the CEO, or top Sales Executive at a small or mid-sized business, you are usually the very best person at telling your story and selling your product or service.
And the video and web technology to present "you"...
looking good,
sounding smart,
and convincing thousands of prospects 24/7,
is available and cost effective.
With online video, you can sell trust before the prospect has ever contacted your company.
Talking heads.
Talking head videos work great online. It's not art, or Hollywood. But you don't sell art or Hollywood. You sell you, you sell trust and expertise, and you personify your company, products and services. Maybe it's for customers. Maybe it's for reporters. Maybe it's for investors. But probably it's for everyone.
With the possible exception of highly commoditized e-commerce products...
Trust is essential. People buy from people.
At Coombs Marketing, we have had big success with lots of simple, but thoughtfully produced, talking head videos, and customer testimonials. They are cost effective and they can be profitable because they're believable. Properly produced, edited, and placed, they can become advertisements on your websites, and blogs, and distributed through paid ads in Google Ads, YouTube, and Facebook/Instagram, or email.
Check out the LASIK page of our client, The Rochester Eye and Laser Center. LASIK procedures have been around for 20 years now. As a product/service, the LASIK market is VERY competitive. When we entice a prospective patient to rochestereyecenter.com we want to make sure that they develop a real preference for "our doctor", Dr. Lindahl. He'll do the procedure. And he's very credible and very likeable.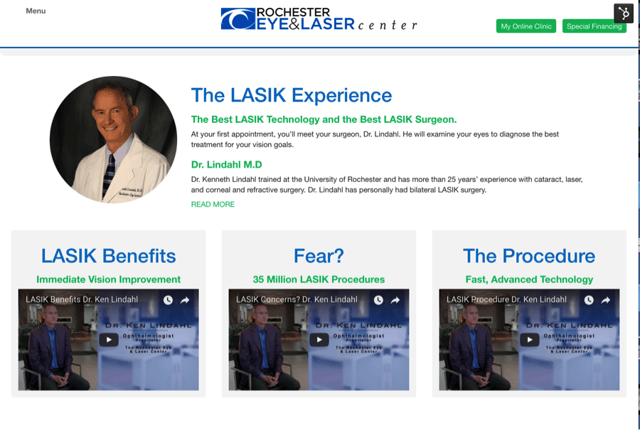 Some notes on "the shoot":
Make it pretty, and make it easy. Make the shoot "calm". Prepare well, but make it clear that "perfect robots" is NOT what viewers like. Viewers like authentic convincing "real" people. Emotion, story and authenticity... win.
Have the background provide some information. And MAKE SURE your topic is, in fact, actually meaningful and relevant for your audience! Plus, have a strong bias toward short and concise.
Also, be prepared to edit the heck out of it!
Read more: How to put the boss "on video".
Then, thoughtfully place and promote your video online.
Here at Coombs, we're experts at various techniques of "talking head" video;
And search engine optimization;
And web development;
And really modern online results driven, advertising experience (Adwords PPC, YouTube, Facebook/Instagram Video Ads).
That's a recipe that can help you really integrate your marketing with real sales effectiveness.
Read more:
You need a lot of video.
How testimonial videos make a claim believable.
Examples of our video work.
Call now. Let's sell together.