To target audiences that are close to the location of your business, you need a local marketing strategy. A business looking to use local influencers and regional assets to attract customers in local neighborhoods, would benefit from a fine-tuned local marketing plan.
Local paid search, SEO, advertisements, and even public events can benefit a business by building a solid base of loyal local customers. However, you can lose that foundation, if you don't understand your local audience. Avoid this by keeping your focus on market research, locality and what current loyal customers are saying.
Easily scalable, these local marketing ideas can be tailored to your business needs. It doesn't take a fortune to be effective, but you must place your focus in the right areas.
Personalize your efforts – Personalized messaging makes your customer feel special. Using local iconography and popular landmarks, your customers don't have to look far to feel included.
Get focused on demographics – Target certain groups within your overall audience with messaging that speaks directly to them. Focus on shared experiences that others within this subgroup can relate to.
Host local events – spark the interest of your local community by holding public events and inviting those that attend to interact and explore your brand. A public demo is a great opportunity for a B2B to build a positive reputation.
Anyone who has a business - big or small- wants to be found on the web. Being found on the fi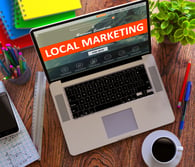 rst page of Google's Search Engine Results Pages, or SERPs, is what it's all about. We all know that. But being a national or international company with clients and prospects all over the US or the world, requires a different search engine optimization (SEO) strategy, than doing business locally does. Small to medium size companies (SMBs) who are only interested in clients, patients, or prospects in their local areas, finding them requires a very different SEO strategy. A Local SEO Strategy.
Why does it matter? Because, if your Local SEO is done correctly, Google favors the Local SEO business over the national SEO company in their local Search Engine Results Pages. Try it, Google "pizza" and what comes up. After you get past the paid ads (the "big guys" are paying for these), you will get local results. Google even asks if you would like to add "near me" in the search.
What can local search do for your local business?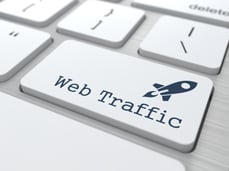 64% of all website traffic comes from organic search (non paid), and that grows substantially every year.
Local Searches = Local Buyers
Many small retail businesses would benefit from a great Local SEO strategy to save money and drive business
Google determines local rankings primarily on three things:
RELEVANCE

: how well the local listing matches what your searcher is looking for

DISTANCE

: how close is the actual searcher to your business.

If a searcher doesn't specify a location in their search, Google will calculate distance based on what's known about their location

PROMINENCE

: how well-known a business is (famous museums, landmark hotels, or well-known store brands that are familiar to many people are also likely to be prominent in local search results.) Prominence

ALSO

is based on information they have about your business across the web (links, blogs, articles, social, and directories your business is listed in.

AND

lastly, the results also factor in

Local Search Engine Optimization

best practices you apply.
It's important to know, there is NO WAY to directly pay for better local organic ranking on Google. Google doesn't tell the details of their search algorithm to make the ranking as fair as possible. (But of course, you CAN buy paid Adwords advertising.)
A couple of years ago, in doing the research for a prospect (now client) in the eye healthcare industry, serving patients locally, we looked at their website analytics, and the analytics of their competitors. We found some interesting SEO results that we didn't expect. Some years ago, the prevailing marketing best practice, for LASIK and other services of Ophthalmology practices, was to have a robust website with a lot of technical information and content that would do well in search results nationally and SEO overall.
This was so popular that agencies could sell the same site with significantly similar, if not identical information, to many practices. This resulted in where our client was, with a site that had blog posts that were the same as multiple other practices and, in fact, the same site content and structure, with different images as a practice less than 80 miles from them.
Times have changed and so has Google's search algorithms. Their site was rich in content, great for national SEO, but they didn't need national SEO. They needed GREAT local SEO – a very different animal. In addition, from what we could tell with our tools, 80% of their site traffic was coming from paid advertising with only 20% coming from organic search (non paid).
Was it the right traffic?
No, in many cases traffic was coming in from out of the area and would just bounce from the site. The site had a 60%-70% bounce rate - unbelievably high! (Note: the site now has a bounce rate of less than 3%.)
Where did this traffic go?
If they stuck around, they were going to pages on the site that weren't created to capture the lead effectively.
So what can you do to get a great local ranking on search engine results pages?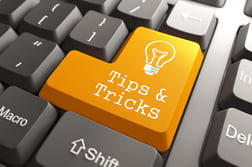 Here are a few tips to get you started:
Links Matter:

Look for links from local sources you currently do business with (i.e. suppliers, vendors, local Chamber of Commerce, baseball team sponsor sites) in your area. Ask them to put a link to your site on their site. This works because Google and Bing want to help small businesses compete in the search rankings against major brands.

Social Media

and small site updates work to help be found. Use your social media tools to educate your prospects and talk about what is happening in your business. Social signals helps!

NAP

(Name, Address, Phone #): Make sure they are clearly seen on every page of your site. Do not use 800 numbers as the search engines will not see you as doing business just locally.

Be consistent

: If you use LLC at the end of your business name - always use LLC - or never use it. Search engines like consistency.

Get Reviews:

The more the better. Ask for them. Never pay to get reviews. If you game the system, it will catch up to you and can result in getting dropped from the search index. That would be devastating for your business. So NO trickery or deceit!

Unique Content

: Make sure your site tells your audience why your business is unique from the others you compete with. Never use content from other's site. Make your content unique.

Interactivity:

The more interactivity, the more traffic. Sites that interact with their visitors (i.e. online appointments, forms to fill out, etc.) tell the search engines you are a good search result. Work to make your site interactive in some way.

Listings

:

Google. Google Maps. Apple Maps. Facebook. Bing. Yahoo. Yelp. When it comes to finding a local business, it doesn't matter which app, map, search engine, directory, GPS device, or social network searchers use. What matters is that they receive accurate, complete, and compelling information about your business at every turn.
So let's get found!
Generating leads – high in both quantity and quality - is a marketers most important objective. A successful lead generation engine is what keeps the funnel full of sales prospects while you sleep. Surprisingly, only 1 in 10 marketers feel their lead generation campaigns are effective. What gives? If you are one of them, download our e-book, 30 Greatest Lead Generation Tips, Tricks, & Ideas.
You might also be interested in these articles: